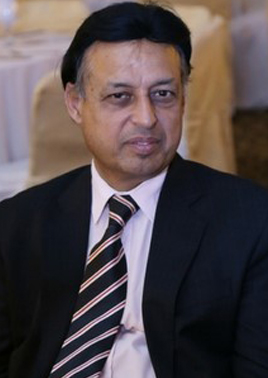 BRIEF INFORMATION
Dr. Izhar Ul Haq Hashmi graduated from King Edward Medical College followed by post-graduation in Oncology from the Postgraduate Medical Institute, Lahore. He took numerous trainings and courses in cancer, management and human resource.
He has worked for a high tech pharma industry in marketing and sale. He is currently serving as Director Program and Operation at the Punjab Welfare Trust for the Disabled (PWTD) developing partnerships with public sector organizations, INGOs and NGOs in the developmental sector. He continues to implement, organize, monitor and evaluate activities for partner organizations catering to persons with disabilities. Dr. Haq has represented PWTD on various different governmental forums. He has facilitated PWD's for early detection and prevention of disabilities program while spreading awareness regarding the issue through programs, lectures and seminars. Dr. Haq initiated several programs to promote self-employment of PWDs through micro lending with the help of Akhuwat. As one of the founding members of Akhuwat he was appointed as the project director of Akhuwat Health Services and continues to work tirelessly for the cause.
EDUCATION
Certified Manager from AMA International University – 1998-00
Department of Medical and Research Technology from Postgraduate Medical Institute, Lahore – 1991-93
MBBS from King Edward Medical College, Lahore – 1983-88
Bachelors from Punjab University, Lahore – 1986-00
OTHER EXPERIENCE:
Director Akhuwat Islamic Microfinance
Working as Director Program and Operation at "Punjab Welfare Trust for the Disabled"
Handling day to day operational and administrative responsibilities of the Trust
Implementing, organizing, monitoring and evaluating the activities of partner organizations
Scheduling and organizing the board meetings of BOG and Executive Committee
Organizing trainings for the partner NGOs for capacity building and best practices
Conducting awareness programs, lectures, and seminars with reference to disabilities
Incubating and piloting new ideas through partner NGOs like community based initiatives, inclusive education, independent living, ustad shagird models etc
Representing PWTD on different governmental forums on behalf of Managing Director, working for the betterment of persons with disabilities
Arranging and conducting advocacy programs for PWDs
Initiating programs like self employments of PWDs through micro lending with the help of Akhuwat
Developing partnerships with Public sector organizations, INGOs, NGOs for the sector development dealing with disabilities
Working of prevention, early detection, management and rehabilitation models to reduce the disabilities
Coordinating and organizing partner NGOs for joint working in specific areas
Facilitating PWDs for assisted devices, information regarding specific needs and self employment.