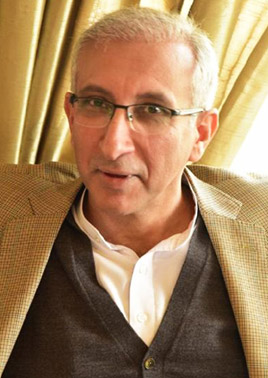 BRIEF INFORMATION:
After completing his BSc in Electrical Engineering, Mr. Abdur Rauf Khan received a Postgraduate Diploma in Environmental Sciences from London followed by a Masters in International Affairs from Columbia University. He later went on to pursue MSc in Gender Development and Globalization from the London School of Economics. He has over 23 years of experience in project management, climate change and general management skills including monitoring, evaluation, administration and project leadership.
The projects he has managed include US $108 million challenge fund under Pak-Italian debt swap, Climate Proofing growth and development project, third party monitoring for World Bank multi donor fund (MDTF), Citizen Damage Compensation Program and Benazir Income Support Program. Mr. Rauf has exceptional communication and interpersonal skills with a strong theoretical background in Development Studies and Economic Policy Management with specific interest on themes such as gender, environment and poverty.
He has been instrumental in building local consortium and teams resulting in winning bigger bids. He currently works as the Country Director of Oxford Policy Management in Islamabad and continues to contribute his valuable time and resources for the development of Akhuwat.
EDUCATION:
2004-5   : MSc Gender Development and Globalisation, London School of Economics
1998-00 : MIA Economic Policy Management, Columbia University, New York
1994-5   : Postgraduate Diploma Environmental Sciences, Middlesex University, London
1984-9   : BSc Electrical Engineering, NWFP University of Engineering and Technology, Peshawar
OTHER TRAINING:
National Management Course NSPP, Lahore – Feb 2014 to July 2014
Senior Management Course, NSPP , Lahore – Feb 2010 to June 2010
Management and Incentives in Modern Organizations, LSE – July to Aug 2008
International Development Studies, Summer School, University of Oslo, Oslo – June to Aug 2007
Seminar on Preferential Buyers Credit, Beijing – May to June 2007
Seminar for JBIC's Official financial Cooperation, Tokyo – September 2004
Trade and Investment Promotion Seminar, Tokyo – April to May 2003
Specialized Training Secretariat Group, , Islamabad – Aug- Dec 1992
Common Training Programme, Civil Services Academy Lahore – Oct 91-July 92