INTRODUCTION
Akhuwat Clothes Bank reflects its strong and steeped belief in providing a garment of hope where there is nothing but mere frays of hopelessness and helplessness are left!
We live in a brutal world where threads of hope are brutally frayed. The fabric that binds us is ripping right from the seams. Sadly, we have lost the realization that we are cut from the same cloth. Yet, in this time of adversity, some roll their sleeves and inspire us with heartwarming deeds. Akhuwat believes in the garment of hope, not just for those who are lacking the human right of clothing but also who are shunned by the society. Akhuwat Clothes Bank, established in 2015 is an extension of Akhuwat Islamic Microfinance.
The operations of Akhuwat Clothes Bank are executed by the transgender who have been rejected by the society and are the victims of the stigma. Through creating employment opportunities, Akhuwat Clothes Bank has become not only a garment of hope for the needy, but has also played a vital part in empowering the Khawajasiras. Akhuwat exists to save souls, light up a ray of hope and serve suffering humanity. It strongly believes that everyone is undivided in essence and is co-equal in power and glory. Therefore, everyone must be provided with the basic human rights and facilities such as education, shelter, clothing and respect.
Akhuwat Clothes Bank is an extension of Akhuwat Micro-finance, and applies the same model and philosophy. Akhuwat Clothes Bank was established in May 2015. Clothes collected from affluent families are repaired, washed/dry-cleaned and packed. The packed clothes are then distributed in the underprivileged communities with due respect and honor.
The clothes are collected from families, they are repaired, washed / dry cleaned and packed. All these tasks are carried out by members of the transgender community who have been wronged by society numerous times. Akhuwat has worked towards ensuring they get a respectable platform as working employees. The packed clothes are then given as gifts to the needy.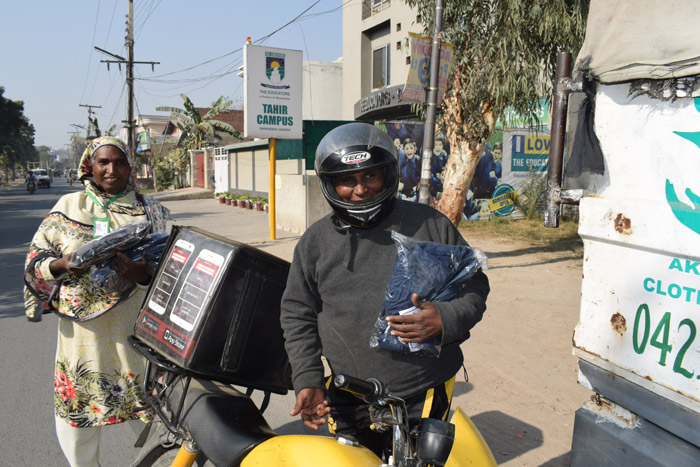 COLLECTION / DISTRIBUTION PROCESS
The existing branch network of Akhuwat helps us in identifying the needy families, through their database of borrowers. Efforts are made to distribute clothes in the poorest areas of Pakistan, including, Southern Punjab, Interior Sindh, Gilgit Baltistan and Balochistan.
For Collection, clothes can be dropped off at any Akhuwat branch. Clothes collected at the branches are sent to Akhuwat Head Office in Lahore for processing.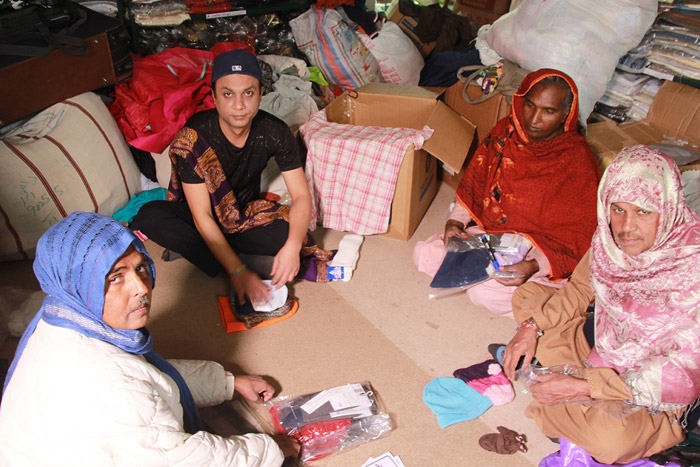 EMPOWERING TRANS-GENDERS
Another important aspect of Akhuwat Clothes Bank is the engagement of trans-genders in the processing of clothes collected from the donors. Clothes collected from the donors are sorted, repaired, stitched and packed by the trans-genders employed at the organization.
Akhuwat Clothes Bank employs trans-genders and provides them an opportunity to earn a decent livelihood.
AKHUWAT CLOTHES BANK GIFT SHOP
Akhuwat Clothes Bank Gift Shop was inaugurated on the first anniversary of Akhuwat Clothes Bank. Any deserving individual can walk in the Gift shop located at Akhuwat's Head Office to get clothes, free of cost. Wedding/formal clothing is also available without any rent.
It is also used as a platform to give children a shopping experience with our enthusiastic team.
Dewar–E– Akhuwat
Deewar-e-Akhuwat is an initiative of Akhuwat to integrate spirit of altruism in people by providing them with easily accessible platform where they can bring their clothes to those who are underprivileged and need decent clothing.
It follows the same token system on which one pair of clothes is allowed on one token. Deewar-e-Akhuwat has been most successful in rural Sindh, South Punjab and northern areas as well.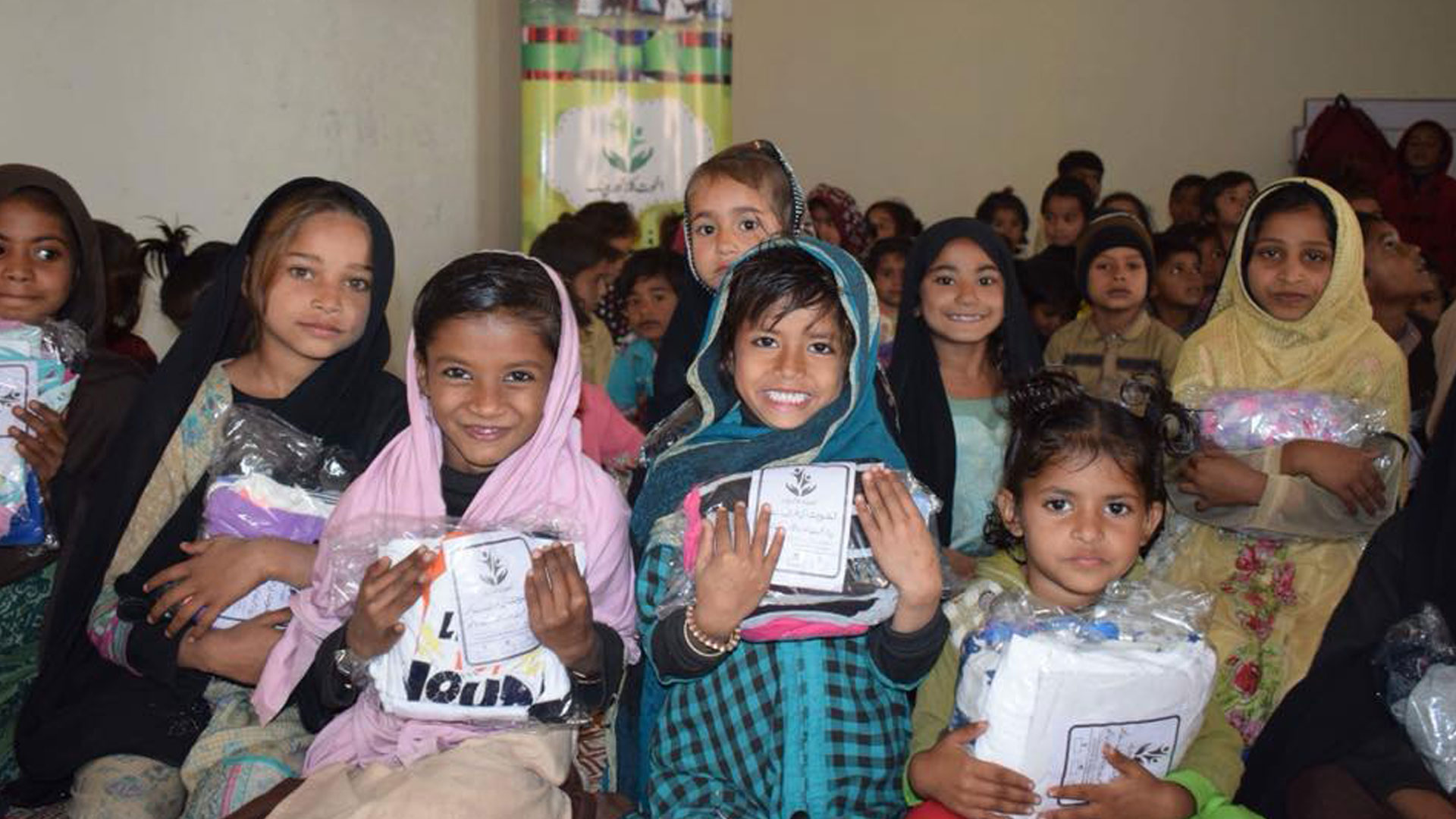 Progress Report (30th January, 2018)
| | | |
| --- | --- | --- |
| Sr No | Indicators | Total |
| 1 | Clothes Collected | 2,006,798 |
| 2 | Clothes Disbursed | 1,907,060 |
| 3 | Benefited Individuals | 953,530 |
| 4 | Benefited Families | 325,876 |
Team
Clothes donated by people from all over Pakistan are brought to the clothes bank at Akhuwat's head office where they are carefully sorted, repaired, washed and packed by a team of Khawaja Siras (transgender). This project is also promoting dignified employment for the Khawaja Siras who are the discriminated segment of the society and are deprived of basic human rights anywhere else.
WEDDING GIFT
Akhuwat Clothes Bank facilitates the deserving in another way, which is in the form of a gift for a wedding. A wedding gift is prepared and presented to the girls whose families are not able to afford new things in the event of a wedding.
The wedding gift consist of the following:
– Unstitched suit (Men and women)
– Blanket
– Bed cover
– Jersey
– Fancy bag and fancy shoes
– Praying mat
ITEMS TO DONATE
– Useable Clothes
– Gents
– Ladies
– Kids
– Shoes
– Socks
– Toys
– Bed sheets
– Any other household item