Khwajasira Support Program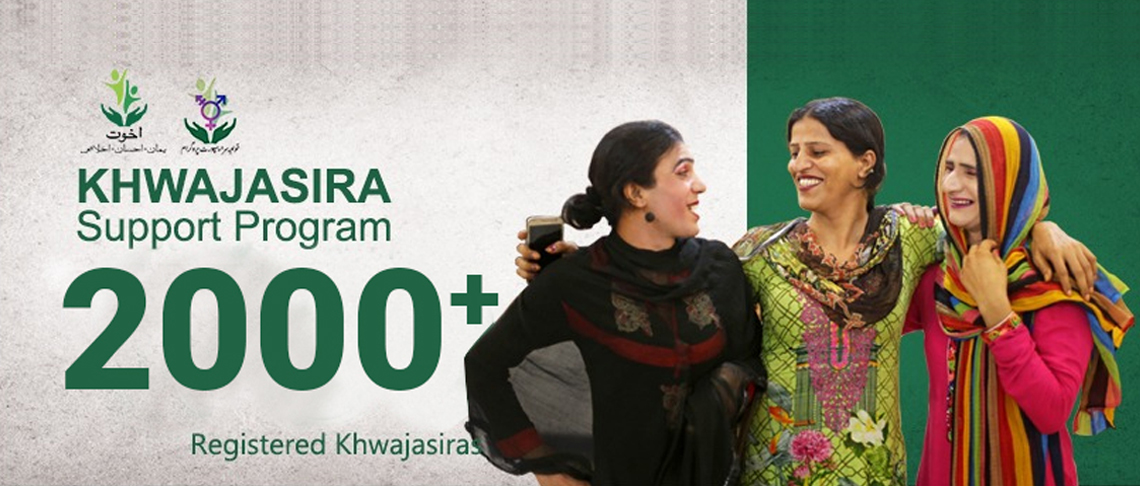 The social and economic exclusion of the Khwajasira or transgender (Third Gender) community in Pakistan has left them dependent on alms, vulnerable to exploitation and increasingly susceptible to abuse. Realizing this and the consequent need for action in this arena, Akhuwat, in collaboration with Fountain House launched the Akhuwat Khwajasira Support Program in 2011. The program works with the vision of creating a system of support for members of the Khwajasira community. This is done through economic and social interventions whereby thousands of Khwajasiras have been registered across the country and are supported through direct financial assistance, health services, psychological support and acquisition of identity documents.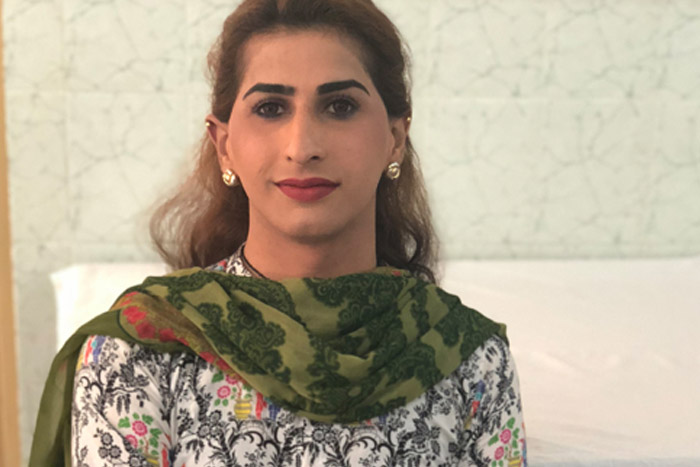 Akhuwat aims to facilitate the successful integration of Khwajasiras within the social fabric of society while maintaining their distinct identity. We do not wish to reform or recreate their culture or traditions. Instead we work to uplift this marginalized community by initiating and implementing such sustainable efforts and programs that will guarantee self-reliance and income generation while also alleviating social exclusion. Ever since its inception, AKSP has become a symbol of strenuous efforts, unparalleled activism and a beacon of joy and hope for over 2000 registered Khwajasiras. These years have been a myriad of the accounts of the Khwajasira community.
Member Benefits
Unique Akhuwat ID Card
Income Support

Rs.89 Million Disbursed as a monthly stipend of Rs.1200

Economic Rehabilitation

Interest Free Loans
Financial Literacy
Capacity Building Trainings and Workshops
Career Counseling and Employment Opportunities

Health Services

Annual Screening For HIV/Aids, Hepatitis B And C, Syphilis
Monthly Health Checkups
Dispensation of Free Medicines at Our Events

Mapping of Khwajasira Community & Research Based Interventions
Psycho-Social Therapy

Team of psychologists and psychiatrists available at Fountain House have been made accessible on a regular basis

Sensitization Campaigns for Social Acceptance
Community Dialogue

Monthly gatherings
Motivational Sessions
Peer Guidance Through Promoting Role Models
Sense of Belonging To Akhuwat And Society At Large
Games and Competitions (Poetry, Singing, Naat recitation, Mehndi design etc)

Celebration on Special Occasions

Eid-e-Milad-un-Nabi
Pakistan Day: (23 March)
Independence Day: (14 August)
Defense of Pakistan Day: (06 September)
Christmas and Birth Anniversary of Quaid-e-Azam: (25 December)
Ramadan Iftar
Eligibility Criteria
Khwajasiras 40 years or older
Monthly income less than Rs.10,000
Linkages Established
Unilever Pakistan
International Fashion Academy Pakistan [IFAP]
Punjab Skills Development Fund
Punjab AIDS Control Program
Mayo Hospital Lahore
Research collaboration with King Edward Medical University (KEMU) and Kinnaird College (KC)
Birth Defect Foundation
Red Crescent Pakistan
How can you help ?
Connect a Khwajasira you know to the AKSP
Spread the message of AKSP i.e. compassion towards Khwajasiras
Employ a Khwajasira, seek assistance from AKSP to identify a suitable candidate for your business
Fund a stipend for a Khwajasira
Provide a Khwajasira with Qarz –e-Hasan Interest Free microfinance loan to set up own business
Register as a volunteer