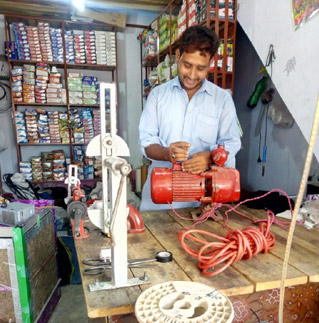 Basharat Rahim
City : Nazir Town Bhakkhar
Profession : Shop Keeper
Basharat Rahim S/O Abdul Rahim is a resident of Nazir Town Bhakkhar. His family comprises of six people, including his old aged father, two sisters and two brothers. There is no land property except for residential house they live in. His monthly income is very low forcing his family to compromise on many of their basic needs as well.
One day he got to know about Akhuwat through his relatives and he contacted the Akhuwat office to improve his economic situation. He completed his application and acquired a loan of Rs. 50,000 on his TEVTA certificate. Since, he had acquired a diploma in motor winding from TEVTA. With the help of applied loan of Rs. 50,000, he opened up his shop for winding motors. Now his business is getting better day by day. After getting Qarz-e-Hassan from Akhuwat his monthly income has increased. Basharat Rahim now plans to extends his business as he wishes to fulfill his dad's dream of sending him to pilgrim.
Fehmina Bibi
Profession : Parlor
Fehmina Bibi is married to Muhammad Afzal. The couple has 2 sons and 2 daughters. Their sons study in Matric whereas their daughters attend grade 6th and 4th. Fehmina took interest free loan from Akhuwat of worth Rs. 50,000/-
With the loan money she opened up a home based parlor and toady she earns almost 20,000 rupees a month. When she began her work she worked in her parlor by herself but now she has expanded her business hiring two more girls. Fehmina believes with the help of Akhuwat she has is able to increase her income significantly improving the standards of living for her family.
Azmat Allah
Profession : Welding Shop
Azmat Allah did a diploma in welding from TEVTA. With the help of acquired skill and Akhuwat's interest-free loan of Rs. 50,000/- opened up his welding shop. He began his business in the times when he could hardly meet his monthly needs and with the help of Akhuwat he now owns 2 welding workshops.
He found his way to Akhuwat in the times of misery and hopelessness, when his family was forced to compromise on basic needs. Then one day when he saw a bulk of people going to mosque he got to know that they were going for attending loan disbursement ceremony of Akhuwat. That was the moment when his heart was touched by nobility of Akhuwat's mission. he believes that it is only due to Akhuwat's help and the sincerity of its team with their mission, that enabled him to overcome the adversity in his life. He hopes the best for Akhuwat.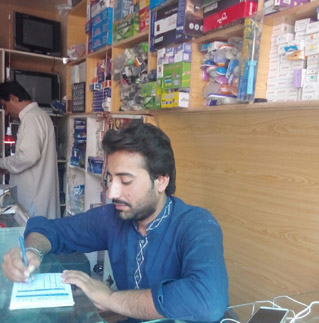 Zahoor-ul-Hassan
City: Mianwali Colony
Zahoor-ul-Hassan is a resident of Mianwali colony. He did diploma in electronics from TEVTA. But even after acquiring the diploma he couldn't find some job. To earn livelihood, he used to sing along with his friends in a musical band but neither I earned him respect nor money.
Then one day he got to know of Akhuwat loans program for assisting TEVTA graduates. To his surprise he discovered the provided loan were interest-free. He applied for a loan of 5r. 50,000/- and with the loan money he opened up an electronics shop. He worked with honesty and passion to improve his standard of living which he successfully did. It is the fruit of his hard work that he became a lender from borrower. Zahoor believes all this is possible only after the support of Akhuwat and the blessings of Interest-free loan. He prays for Akhuwat's unbounded success and glory.