We must never forget that today's youth will be tomorrow's leaders.
Almost two months on from the advent of COVID-19 in Pakistan, the virus' swift and unrelenting course has left thousands in need of medical, financial, and social assistance. With the mandated nationwide lockdown still underway, Pakistanis have had little choice but to slowly come to terms with the fact that this may be the new 'normal'.
Officials have predicted anywhere between 12.3 to 18.5 million people (Shaikh, 2020) will find themselves out of work as a consequence of the circumstances brought on by COVID-19. It comes of almost no surprise that those with the least job security will be disproportionately affected; our daily-wage earners, and blue-collar workers. These individuals often live in remote or underdeveloped areas, and with social distancing protocols in place; identifying, let alone providing assistance to these individuals, is no small task.
As a solution to this, Akhuwat has launched the 'Dast-e-Mawakhat' program that utilises the pre-existing social networks of its students. Students enrolled at Akhuwat Colleges in Kasur and Faisalabad, as well as smaller schools which come under Akhuwat Education Services, all cater to bright, dedicated students from underprivileged backgrounds. These students have come together under the Dast-e-Mawakhat program, a special leadership assignment launched in collaboration with Akhuwat College Kasur's Community Service club.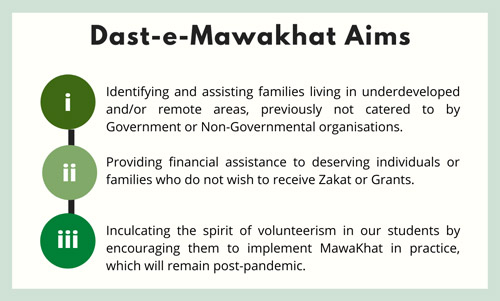 Through using the social networks of Akhuwat's students to identify and assist families in their own underdeveloped communities, it is hoped that students will be inculcated with Akhuwat's core principle; solidarity and brotherhood with the nation's most needy and deserving citizens. Not only ensuring that the neediest and deserving individuals of today will be cared for, but that the needy and deserving of tomorrow will be as well.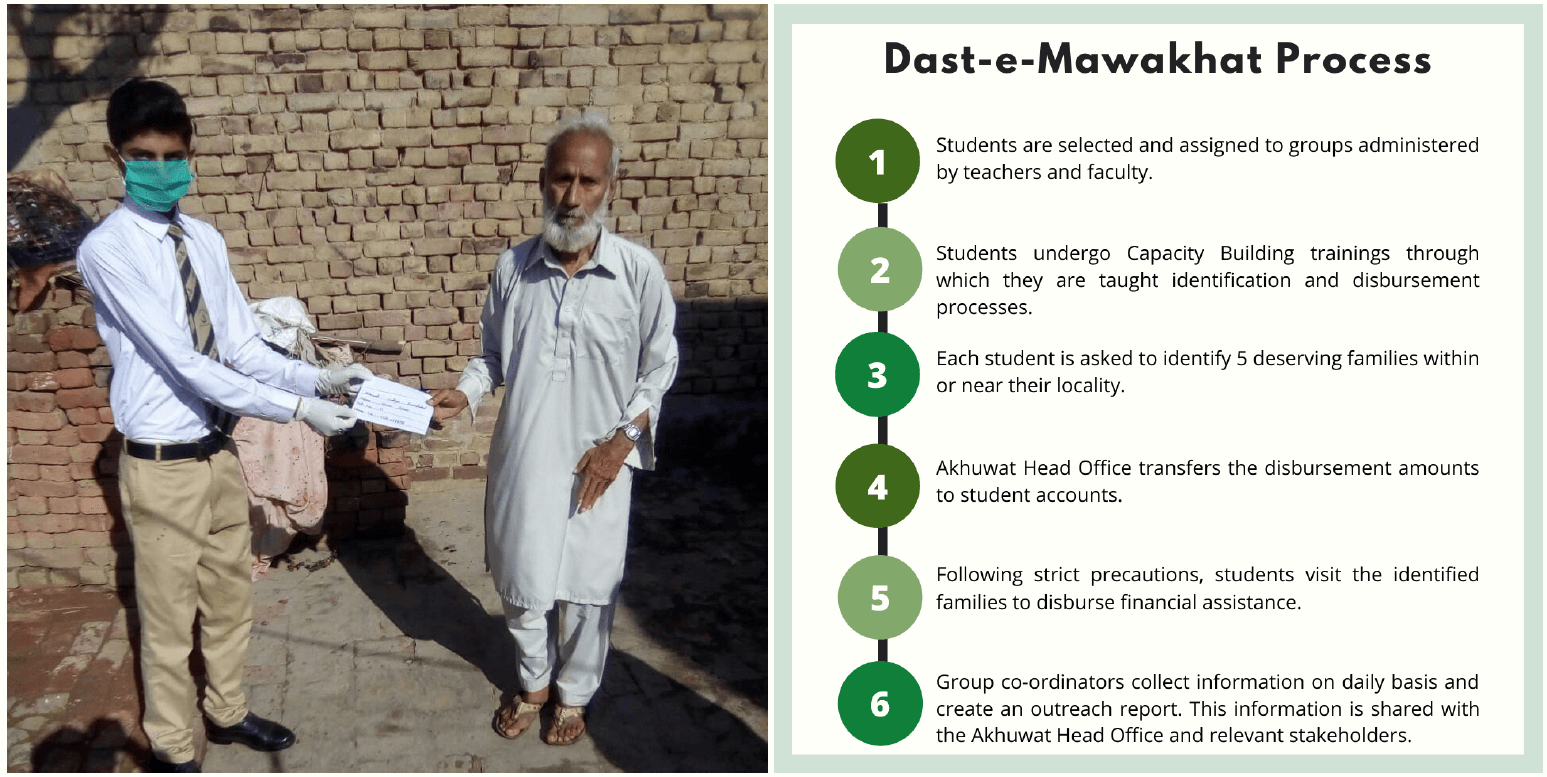 Akhuwat's mission and vision for a poverty-free society cannot succeed unless a focus is placed upon the value of compassion. It is through compassion that Akhuwat has been able provide an education to these students, and it is through compassion that these same students will go forth to become the leaders of tomorrow, providing for their respective communities.
This program is very helpful for the poor, it brings my heart peace and satisfaction helping those most deserving.
—Student of Akhuwat College, Kasur.